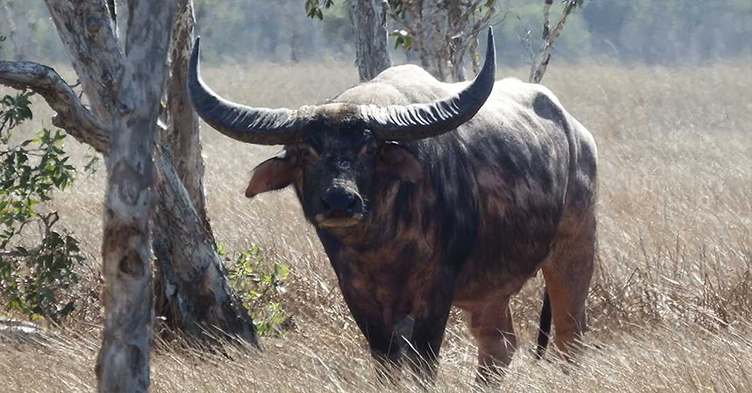 A RUSA STAG FINALLY
Come along with Cory Seymonbergen as he chronicles his frustrating at times, but ultimately successful, bowhunt for the elusive central NSW coastal Rusa Stag!
CENTRAL WESTERN NSW BILLY GOAT
Tyler Atkinson grabs his longbow and goes full traditional in this great billy bowhunt story during a huge western NSW electrical storm.
BUFF, BULLS & BOARS
Regular contributor, Darcy Galliano, can only be in one place if he's bowhunting these three big game animals……yep, the Northern Territory! Read this epic story where Darcy and his mates get amongst it on this awesome NT hunt.
CHAMOIS IN THE FRENCH ALPS
The bowhunter who graces the cover of this edition, Errol Benstead, has put together a literary masterpiece in this stunningly photographed epic traditional bowhunt for the beautiful alpine Chamois in the French Alps.
AFRICA
Come along with Bowhunting Safaris South Africa hunt winner, Adam Turnbull, as he sends some well aimed arrows through a number of great African plains game animals on his recent trip to the Dark Continent.
BLACK BEAR IN THE USA
International bowhunter, Mathew Scott, takes us on a great bowhunt for big Black Bear in Oregon and outlines some tips to help you organise your own overseas bowhunt.
BOWHUNTING A HARE….OR THREE!
Young bowhunter, Jett Harch, pens one of his first published articles in this great little story about his hunt for the 'big' rabbits!
PRODUCT REVIEWS
This edition of BDU Magazine has in-depth Product Reviews from all our editorial staff starting with our Trad Editors review of the Little Ax Bowcase, Huntress Editor, Kimmi Guest's review of the awesome Mathews Avail womens bow and reviews of the hottest new 2020 bows and the Oz Cut Hurricane broadhead by our Editor, Allan Bowman.
LEGENDS OF AUSTRALIAN BOWHUNTING
This edition we celebrate the amazing achievements of a living legend of our sport here in Australia, Mr Ed Lanski.